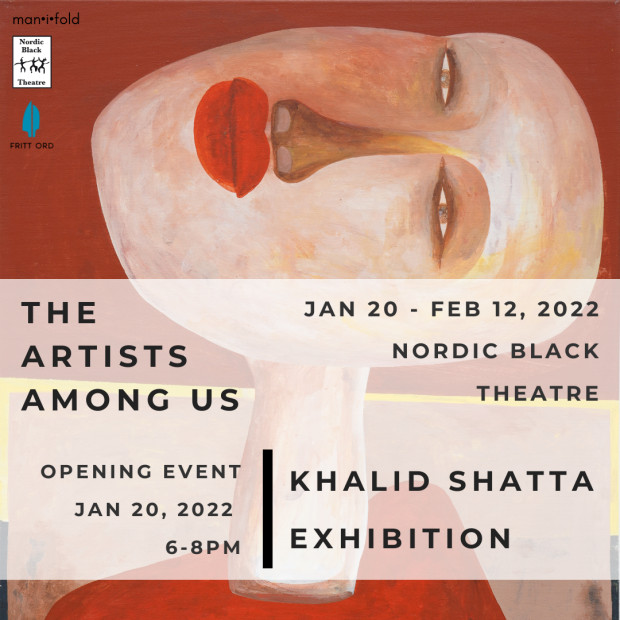 Opening 20. januar kl. 18:00

Exhibition from 20. januar to 12. februar.
Welcome either on the opening night (own program) or some other day.
Contact Sarah Rezayat to book time for the exhibition some of the other days:
sarah@nordicblacktheatre.no

Group visits can be arranged via contacting Mona at:
mona.frank94@outlook.com
Exhibition
The Artists Among Us proudly presents a selection of art pieces by Khalid Shatta, a rising star in the Oslo art scene. Shatta has collaborated with Oslo Afro Arts Festival and the renowned artist Nicole Rafiki and has recently exhibited at Kunsthall Oslo and Khartoum Contemporary Art Center. His work is inspired by modernist arts, but also by the culture of his birthplace, Sudan.
Shatta says: «Ancient Sudanese history from the kingdoms of the Nile valley civilisations is an important inspiration for my work. Being of Nuba descent, I believe in trying to uncover the cultural heritage we lost under Islamic conquest and European colonialism.
I am currently exploring a theme I call the migration of the soul – the sensation of being out of place. We live in a time where many people feel a disconnection from their own bodies and existence. I believe that everything is connected through our shared history, even in this chaotic state of migration.»
We will also have a couple of paintings by Anas Salameh, a Palestinian painter and visual animation and comic artist. Salameh lives in Norway and has worked with several exhibitions and works in public "open spaces" in Norway and other places. One of his most important works is a series of drawings and pictures from the daily life of Yarmouk camp in Damascus. The images without colour are mainly done with coffee grounds and other daily commodities. Salameh works mainly with painting and drawings but also with installations and works in the public sphere.

About The Artists Among Us
The Artists Among Us is an international art project that combines different art mediums to celebrate the talents of former and current refugee artists from different parts of the world. The project's entirety will combine audio-visual material, a painting exhibition, interactive panel conversations, scenography installations, and documentary films.
We aim, through this project, to amplify creations of otherwise marginalised artists, which due to socio-economic conditions and legal disadvantages that the "refugee" status entails, lack access to resources and do not get the attention they otherwise would share with a broader audience.