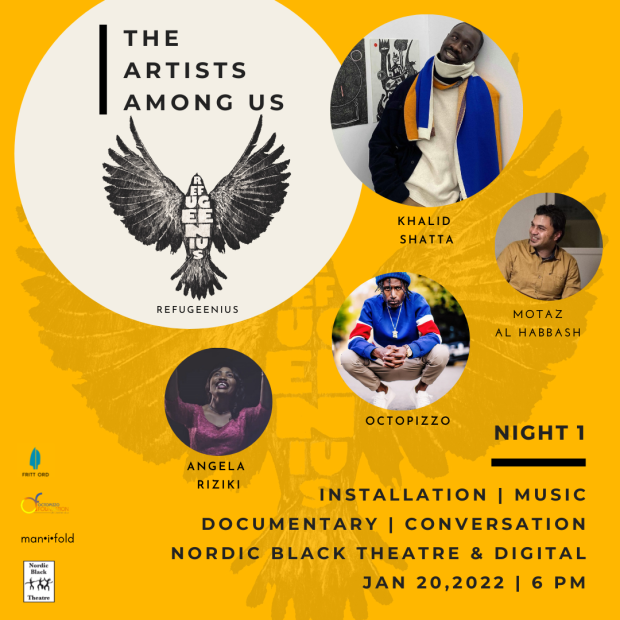 Torsdag 20. januar kl. 18:00-20:00
Remember to take out your free ticket:
The Artists Among Us // Night 2
Welcome to the first opening night of The Artists Among Us! We are excited to kick off our three-week-long artistic project with a night packed with music, a short film, a conversation with inspiring artists, and an exclusive two-day scenography installation by the Palestinian painter and animation artist Anas Salameh.

The evening starts with vibrant music from Refugeenius, an album made by artists from several parts of the African continent. We will also screen a short film about Khalid Shatta, a rising star in the Oslo art scene whose paintings will be exhibited for the entire duration of the project. We will close the evening with an interactive panel with one of the contributing artists of Refugeenius, Angela Riziki, Octopizzo, a world-renowned hip hop artist and the producer of Refugeenius, and, last but not least, Motaz al Habbash, one of the people behind the project "Her og Der", the survival guide for newly relocated artists in Norway.
Teaser – short film – Khalid Shatta
Host: Rahwa Yohaness
The event is free and will also be streamed online. Seating is limited due to Covid-19 restrictions, so make sure to get your ticket in advance by registering through the ticket link.
About The Artists among Us
"The Artists Among Us" is an international art project that combines different art mediums to celebrate the talents of former and current refugee artists from different parts of the world. The project's entirety will combine audio-visual material, a painting exhibition, interactive panel conversations, scenography installations, and documentary films. We aim, through this project, to amplify creations of otherwise marginalised artists, which due to socio-economic conditions and legal disadvantages that the "refugee" status entails, lack access to resources and do not get the attention they otherwise would share with a broader audience.