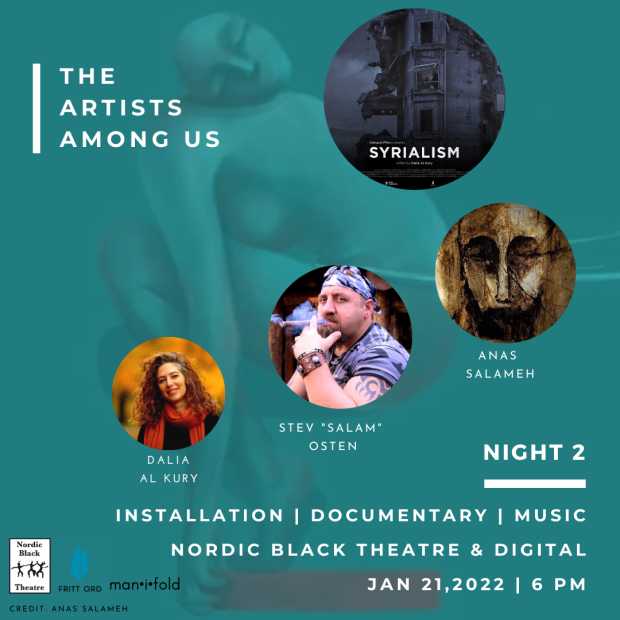 Fredag 21. januar kl. 18:00-20:00
Remember to take out your free ticket:
Come prepared for a unique experience that will challenge you to walk in someone else's shoes, but fear not, you will also be entertained. Join us on the second opening night of The Artists among Us for a night with vibrant music, a film screening and a conversation with Dalia Al-Kury. This is also your last chance to catch the two-day exclusive scenography installation by the painter and animation artist Anas Salameh. In the docu-drama "Syrialism", we will get to know Stev, who explores the nature of dreams, memory, and imagination as a way of dealing with his complex feelings of survivor's guilt. We will also meet the filmmaker Dalia, a Palestinian film director working on cross-genre projects and the woman behind "Syrialism". Dalia's films explore different cultural taboos in the Arab world and have premiered at festivals such as Hotdocs, IDFA and TV networks such as Aljazeera and Arte. Finally, Stev, who is also a singer and DJ specialising in Arabic music, will close the night with a performance of his favourite music pieces.
Host: Rahwa Yohaness
The event is free and will also be streamed online. Seating is limited due to Covid-19 restrictions, so make sure to get your ticket in advance by registering through the ticket link.
About The Artists Among Us
The Artists Among Us is an international art project that combines different art mediums to celebrate the talents of former and current refugee artists from different parts of the world. The project's entirety will combine audio-visual material, a painting exhibition, interactive panel conversations, scenography installations, and documentary films.
We aim, through this project, to amplify creations of otherwise marginalised artists, which due to socio-economic conditions and legal disadvantages that the "refugee" status entails, lack access to resources and do not get the attention they otherwise would share with a broader audience.