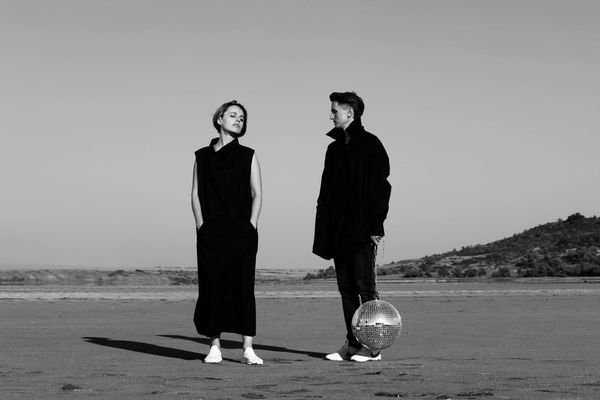 Torsdag 5. mai kl. 19:00 (dører kl. 18:00)
UKRAINSKE ROKSANA SMIRNOVA & MISHA KALININ TIL NORGE (English text follows)
Denne konserten ble planlagt før krigen brøt ut i Ukraina. Vår venner og kolleger der er under et ekstremt press, det er derfor med en enorm lettelse de kan forlate Ukraina for å reise ut og gjøre det de ønsker: Presentere musikken sin og å snakke om det de opplever i hjemlandet for omverden. Smirnova og Kalinin kommer først til Silent Film Days i Tromsø før konserten i Oslo. Duoen slapp albumet «Whispers» på labelen Global Sonics i 2020 og vil blant annet spille musikk fra dette under konserten på Cafeteatret.

SMIRNOVA & KALININ
Dette er en duo som for lengst har funnet seg en plass på den internasjonale musikkscenen. Musikken deres har elementer av improvisasjon som veves inn i spennende eksperimentelle strukturer. Pianist Smirnova kombinerer sin klassiske formasjon med improvisasjon på en subtil måte. Gitarist Kalinin har på sin side utmerket seg for å ta instrumentet ut av sin tradisjonelle rolle gjennom en særegen interpretasjon og sitt spesielle sound. Dette er utøvere som har funnet en unik, sjangeroverskridende og kreativ musikalsk dialog.

NB! INNTEKTER FRA BILLETTSALGET VIL DONERES TIL HUMANITÆRT ARBEID I UKRAINA.

Konserten er støttet av Cafeteatret, Kulturrådet og Oslo kommune.

(English)
We are delighted to present two outstanding musicians from Ukraine. Currently living under extreme tension in their home country, Roksana Smirnova and Misha Kalinin express the need to continue performing and share their experiences from Ukraine with the outside world. The duo will perform at Silent Film Days in Tromsø before coming to Oslo.

SMIRNOVA & KALININ
Pianist Roksana Smirnova and guitarist Misha Kalinin have over the past years developed a unique sound in combining acoustic piano and electric guitar with various effects. Smirnova combines subtly improvisation with structures and forms influenced by her background as a classical musician. Kalinin is known for bringing the guitar out of its traditional place. He brims over with ideas, constantly creating new sounds.Their album Whispers, released on label Global Sonics in 2020, features original compositions by both. The music does not fit into any specific genre. It brings together strongly contrasted elements, spacious impressionistic sound, improvisational interaction, dynamic rhythmic structures and sounds dissolving in silence. Their music dialogues are shaped into attractive compositions that connect deeply with listeners. Channeling the flow of inspiration, music of the duo paints pictures in the mind.

NB! REVENUE FROM TICKET SALES WILL BE DONATED TO UKRAINE RELIEF EFFORTS.

With financial support from Cafeteatret, Arts Council Norway and The City of Oslo.