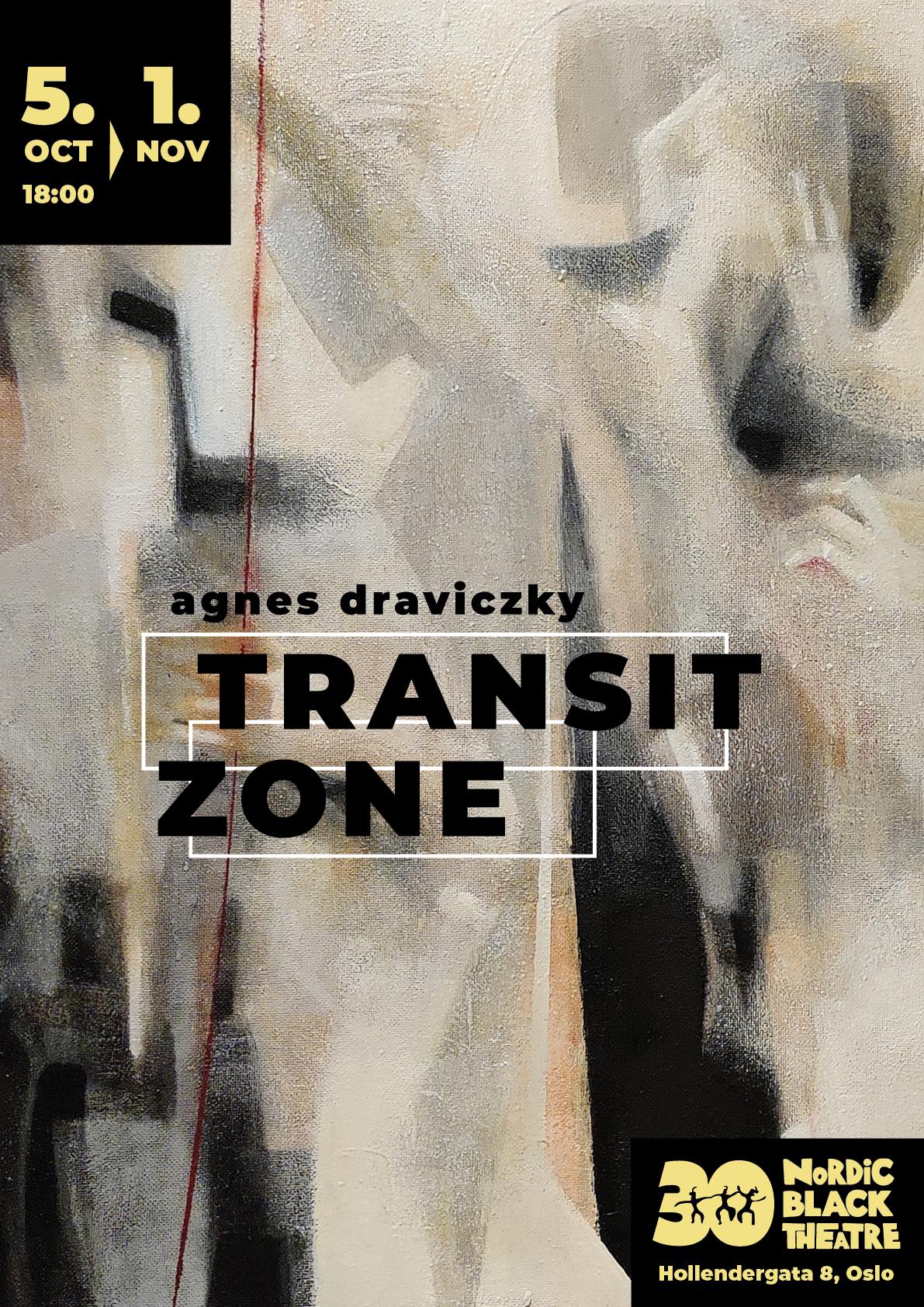 onsdag 5. oktober kl 18:00, Gratis
Dørene åpner kl. 17:30
Artist talk med Sarah Rezayat 18:00
Utstillingen står til 1. November. Kontakt sarah@nordicblacktheatre.no for å se utstillingen etter den 5. October.
Agnes Draviczky, Budapest 1980
Hungarian University of Fine Arts – Painter / MA, 2006
Hungarian University of Fine Arts – secondary school teacher of Art History and Drawing/ MA, 2005
For almost ten years, when working in her homeland she studied abstraction by exploring the meaning perceived through the energy of tensions between shapes and colors.
Moving to Norway was a turning point.
When she started a new life in Norway, she discovered a new perception in learning the meaning of heritage, roots, and personal mythology. By not understanding the language and being an outsider made people and the way they connect appear as an abstraction to her. This became the focus of her artistic expression.
When people meet, an impact arises, and the connection is inevitable. Draviczky's artistic curiosity is wrapped around the beauty, success, or failure of the simple conflict of existing together. The history, cultural background, and deeds of the characters in her pictures are unknown. The situations are captured moments that reveal the quality of relations.
Draviczky is not focusing on visualizing a reflection of our current society or presenting any storytelling narrative. We do not know where the figures come from, or where they go. If they just arrived, if they are staying or if they have already left. She is looking for the reflection of the people of all times: the universal shape of humans who share their sensibility, regardless of their identity or personal background.
After being an exhibiting artist in Hungary, appearing in various festivals, joint and solo exhibitions, she held her first solo exhibition in Norway in 2015 where she has continued producing and presenting her artwork ever since.
She is working with painting as an exclusive technique, preferers working with large dimensions. Some of her series consists of paintings of 2.5 meters in width on a wood plate. She is working with Oil or mixed techniques of Acrylic and oil.
Ars Poetica
One searches for questions and answers. Tries to collect the pieces of a puzzle from which they can build their harmony. My work as an artist is to observe, understand and visualize these processes through shapes, structures, and colors. Once a picture creates, it does not belong to me anymore but becomes an independent reality. My challenge is to make it ready to transform into a relevant message that comes to meaning through the spectator's unique perception.
Instagram: agnes.draviczky
www.agnesdraviczky.com
Exhibition Curator: Sarah Rezayat