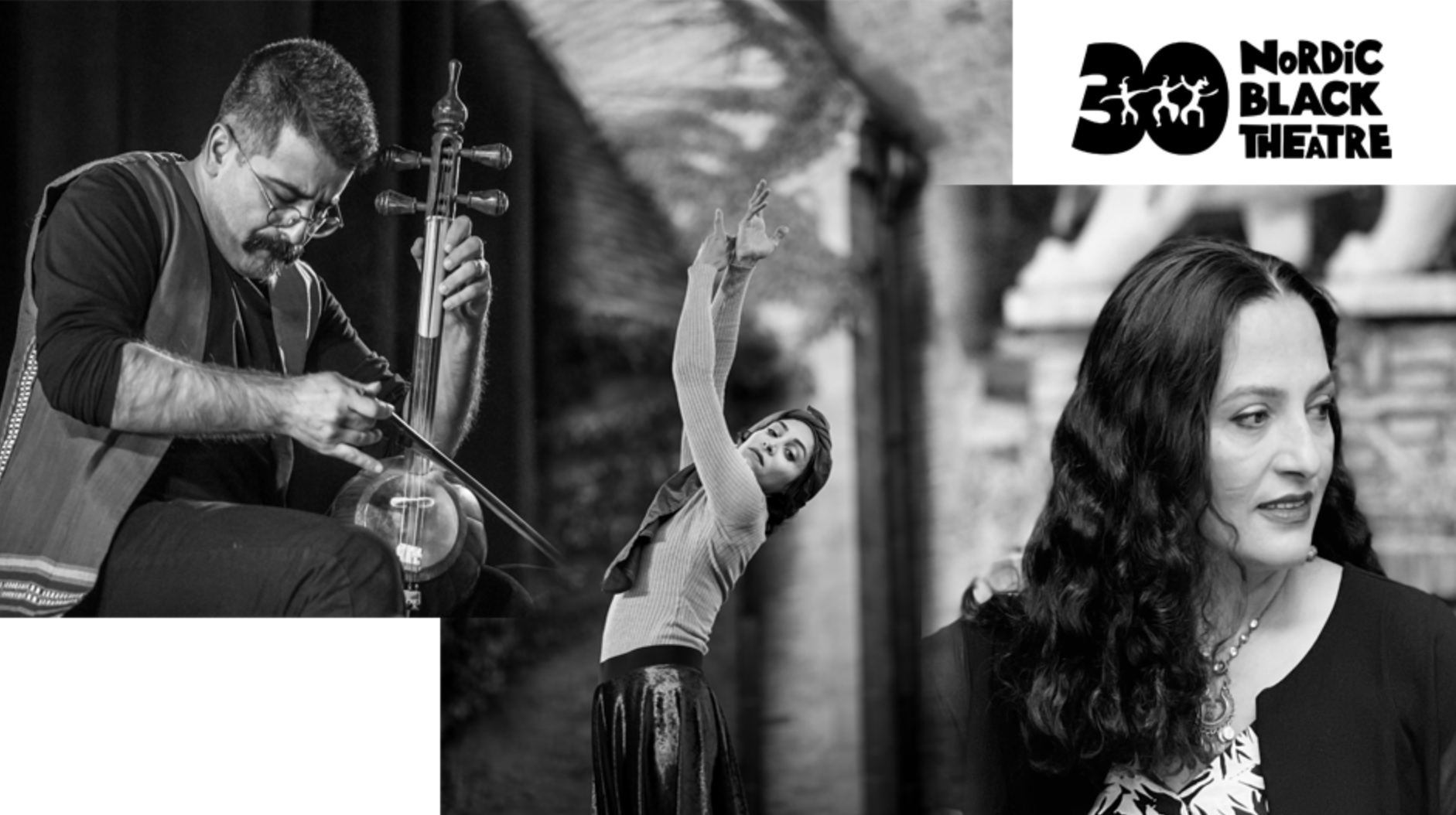 mandag 19. september kl 15:00, Gratis
Dørene åpner kl. 14:30
A contemporary Interpretation of Traditional Elements of Iranian Music and Dance byShowan Tavakol (kamancheh), Negin Zomorrodi (piano) and Hediyeh Azma (Contemporary Iranian Dance).These three artists are coming from three parts of the world with their particular artistic perspective.
Negin Zomorodi:was born in 1973 in Tehran. She began playing the piano at childhood under the instruction of such renowned masters as Voski Ohanessian and Farimah Qavam-Sadri.She received an MS degree in Textile engineering and MA in music composition from Tehran University of Art in 2009 and took specialized courses in music theory and harmony at The Royal Conservatory of Music (RCM) in Toronto, Canada.During the 27th International «Fajr» Music Festival 2012 , she won the first prize for Composition.Her various works have been performed at different international festivals and concert halls. including "Rebellious Shadow" (flute & piano), performed at the Contemporary Composers Festival in Mississippi University.The string quartet "Migration", in Roudaki Hall. "The Dancing Shadows", for solo alto flute performed in Flute Society of Washington, Mid-Atlantic Flute Convention 2020.In addition to composition, Zomorodi is skilled at improvisation, and had many improvisations in Music Festivals .She released her quartet under the name of Dream of Desertion. The "Lane of Your Look" is her piano solo collection in 2014. The "Bobble & Mirage" is her piano improvisation with traditional Iranian instruments. She recorded her symphonic orchestra pieces in the Prague metropolitan symphonic orchestra in Czech radio and television studio and released the theme, "In_immigration" with Hermes records. Negin has established a music Association named Gozar Music Assembly which convenes monthly. Assembling contemporary composers, executants, lecturers, critics,and music students, she is trying to close the music lovers. Today Negin Zomorodi is the manager of Gozar Music Academy which she founded in 2017.
Showan Tavakol: Versatile musician, Canadian-Iranian composer, born in Tehran (1979). His works have been performed in concert in Europe, Asia and North America, and he has also written music for the cinema, notably for the film Manuscripts Don't Burn (Mohammad Rasoulof), which was presented at the Cannes Film Festival in 2013. As a performer, he has appeared as the soloist for several of his compositions, including the Concerto pour kamancheh and orchestra symphonique, which was acclaimed by the jury of the Fajr International Music Festival. Heterotopia, his piece for Kamancheh and orchestra, was performed in Montreal by the Nouvel Ensemble Moderne (The NEM) with the composer as soloist. He has also participated in the recording of three albums of his musical works (in Iran and Germany): «On trolley of time», «Parallax view»,»Suge sarv» and also his co-composition album "Echo of the mountains» published by Analekta in Canada. Showan holds a bachelor's degree in music and a master's degree in kamancheh performance from Tehran University. Driven by an interest in ethnomusicology and composition for world music, he has also taken courses leading to the development of expertise in the traditional instruments of a variety of cultures. He also obtained a master's degree in composition from the University of Mon in Québec. he is also member of SOCAN, Canadian league of composers and professor of kamancheh and violin at world music center in Montreal. In 2019, Showan won second prize in composition in the Prix collégien de musique contemporaine (Québec), and third prize in composition at the Classic Pure Vienna International Music Competition (Austria).
Hediyeh Azma:is an Iranian dancer, pedagog and choreographer based in Norway. She received prizes such as best performer and best director among others. She began dancing and trained in the classical Iranian national (so/called classical) dance at the age of 12. Continued attending for 13 years, she also knows some folkloric dances beside receiving trainings in ballet. She established her dance ensemble named Deir in 2012 until she immigrated for her Masters to Norway in 2016.Hediyeh Holds an MA in Dance-anthropology from a consortium of four European universities (NTNU, SZG, UCL, Roehampton). Her main interest lays in site-specific and audience participatory forms of performance. She is a member and co-founder of Tan-Nava dance-music ensemble in Norway. Also, owns a dance company with her own name. She is currently working on her site-specific dance-theatre "Lupiner".