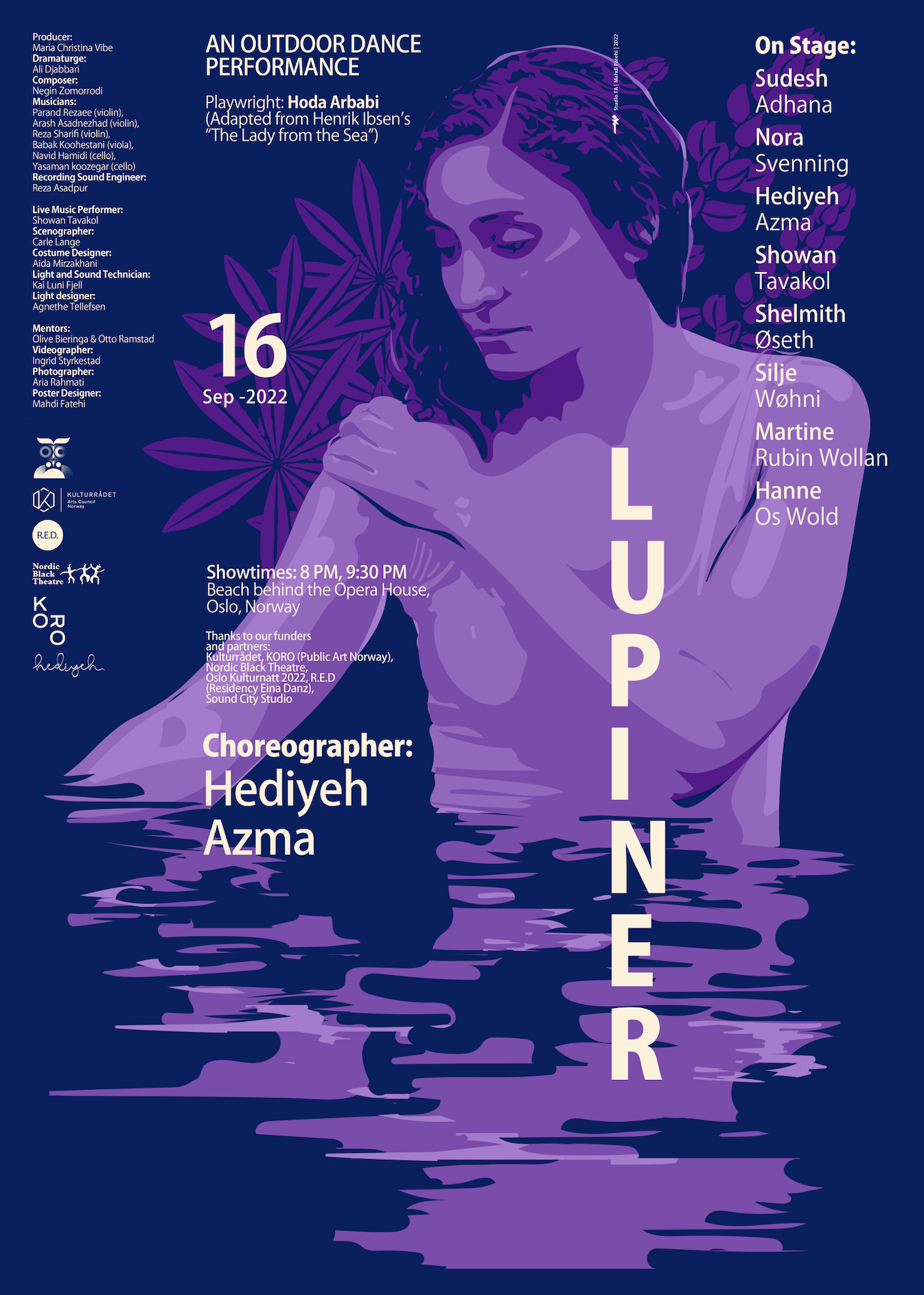 fredag 16. september kl 20:00, Free Ticket
(English below)
«Lupiner» er en nytolkning av Fruen fra Havet av Henrik Ibsen i form av en stedspesifikk danseforestillingen. Forestillingen tar for seg gledene og traumene som hører til innvandringsprosessen.
«Lupiner» utforsker lekent følelsen av sted, bevegelse, musikk og lyd. Forestillingen finner sted i rolige utendørs omgivelser hvor publikum er invitert til å sitte ved fjorden og observere kropper i bevegelse, både i og utenfor vann. Tradisjonelle iranske Kamanche toner og delikate iranske dansebevegelser vil tilføre dybde til denne fortellingen.
English:
«Lupiner» is a site-specific dance performance, adapted from the lady from the sea by Henrik Ibsen. It narrates joys and traumas of "immigration".
«Lupiner» plays with the feeling of space, movement, music and sound. It happens in a leisurely outdoor space, where audience are invited to sit on the seashore, and watch bodies in motion in and out of water. Iranian ancient nuances of Kamanche and delicate Iranian dance moves would add to the richness of the narrative. 
Credit:
Choreographer/Concept – Hediyeh Azma
Playwright – Hoda Arbabi (Adapted from Henrik Ibsen's 'Lady from the Sea)
Producer – Maria Christina Vibe
Dramaturge- Ali Djabbari
On stage – Showan Tavakol, Hediyeh Azma, Nora Svenning, Sudesh Adhana, Shelmith Øseth, Silje Wøhni, Martine Rubin Wollan, Hanne Os Wold,
Composer – Negin Zomorrodi
Musicians – Parand Rezaee (violin), Arash Asadnezhad (violin), Reza Sharifi (violin), Babak Koohestani (viola), Navid Hamidi (cello), Yasaman koozegar (cello)
Live Music Performer – Showan Tavakol
Scenographer – Carle Lange
Costume Designer – Aida Mirzakhani
Light and Sound technician – Kai Luni Fjell
Light designer – Agnethe Tellefsen
Sound Engineering – Reza Asadpur
Mentors – Olive Bieringa & Otto Ramstad
Videographer – Ingrid Styrkestad
Photographer – Aria Rahmati
Poster Designer – Mehdi Fatehi
Thanks to our funders and partners – Kulturrådet, KORO (Public Art Norway), Nordic Black Theatre, Oslo Kulturnatt 2022, R.E.D (Residency Eina Danz), Sound City Studio