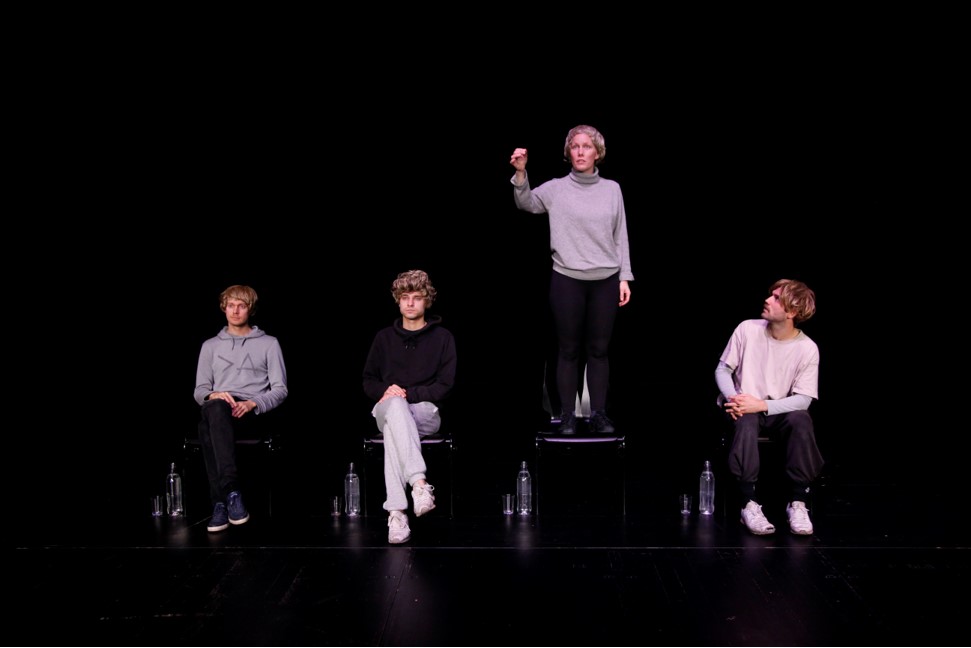 onsdag 7. desember kl 20:00, 100 kr
Dørene åpner kl. 19:00
Happy Happy Vineyards Et postdramatisk lystspill av og med Boys in Sync ved Jakob Krog (DK) Simon Zeller (DE), Gregers Hansen (NO/PL) og Ragni Halle (NO)
I 1925 utgir Adolf Hitler Mein Kampf – sitt antisemittiske manifest for fremtidens Tyskland. I 1925 snur den tidligere anti-nasjonalistiske forfatteren Carl Zuckmayer på hælen og utgir Der fröhliche Weinberg (Happy Vineyards) – en lettbeint såpeopera om intriger og bedrukne kjærlighetsforhold på den tyske landsbygda. Begge utgivelsene skulle bli bestselgere i samtidens Tyskland.
Gjennom gjenfortellingen av den fiktive nyoppsetningen av musikkkomedien " der Fröhliche Weinberg", reflekterer karakterene i "Happy Happy Vineyards" over sin egen samtid og kunstens relevans som politisk kampmiddel. Deres versjon av Fröhliche Weinberg er en fantasi av hva det nasjonalromantiske musikkteaterstykket kunne – eller kanskje burde – ha vært. Forestillingen spilles på engelsk.
ENGLISH: Happy Happy Vineyards By Boys in Sync In 1925, Adolf hitler releases Mein Kampf – his anti-semitic manifesto for the future of Germany. In 1925, former anti-nationalist author Carl Zuckmayer changes course and releases Der fröliche Weinberg (Happy Vineyards) – a joyful music play about love and intrigues in the german countryside. Both releases would become best-sellers. Through the retelling of a fictive staging of the musical comedy "Happy Vineyards", the characters in "Happy Happy vineyards" reflect upon their current society and the relevance of art as political tool. Their version of Happy Vineyards" is a fantasy of what the national romantic play could have – or maybe should have been.
The performance is played in english