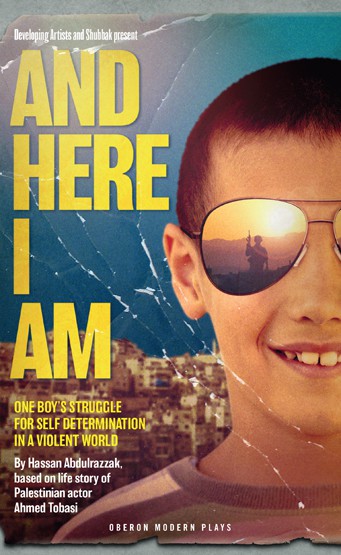 17.–18. august, kr 100.-
The Freedom Theatre fra Palestina er på Norgesturne fra Karlsøy via Trondheim til Oslo. Samarbeidspartnere for Norgesturneén er CrotonicX, Karlsøyfestivalen i Troms og Nordic Black Theatre. Denne uken er det forestillinger og arrangementer i Trondheim og neste uke i Oslo på Nordic Black Theatre.
ETTER FORESTILLINGEN FREDAG 18. AUGUST BLIR DET EN
FUNDRAISENDE FESTAFTEN FOR THE FREEDOM THEATRE KL. 21 PÅ NORDIC BLACK THEATRE.
Mer info under.
Under finner du mer info om The Freedom Theatre, forestillingene i Trondheim og hvordan du kan donere for å støtte The Freedom Theatre.
And Here I Am
Basert på Ahmed Tobasi`s liv har den prisbelønte forfatteren Hassan Abdirazzak levendegjort en ung palestinsk manns jakt på den sanne betydningen av frihet. Vi blir tatt med inn i en personlig og politisk fortelling om okkupasjon og motstand, frykt og heltemot, et liv med selvstendighet og lojalitet. I et tidsrom som strekker seg over den første og den andre palestinske intifadaen, følger vi hovedpersonens transformasjon fra bevæpnet motstand til scenekunst, og hans flukt fra Vestbredden til Norge og deretter tilbake igjen. Ahmed Tobasi gir et innblikk i hvordan det er å vokse opp i en palestinsk flyktningleir, stå foran i brigaden med maskingevær, håpløs kjærlighet, og et møte med Norge. En miks av humor og blodig alvor.

Forestillingen er på engelsk // the performance is in English

Written by: Hassan Abdulrazzak
Performed by: Ahmed Tobasi
Produced by: Oliver King /
Developing Artists Directed by: Zoe Lafferty

Donate and support The Freedom Theatre
Your contribution helps The Freedom Theatre provide creative activities for Palestinian young people, in theatre, photography, film, writing and much more. You enable us to stage professional theatre productions and bring Palestinian voices out to the world. Your support is absolutely essential to our ability to continue improving the lives of new generations through the arts.

If just 1000 people around the world donated 20 USD/EUR or more a month to The Freedom Theatre, we would cover our entire running costs!

Donate here:
https://thefreedomtheatre.org/donate/

English//
Based on Ahmed Tobasi's personal coming of age story, AND HERE I AM is an epic voyage of identity and self discovery. Combining fact and fantasy, tragedy and comedy, spanning both the first Palestinian intifada and the second, we follow the protagonist through his transformation from armed resistance fighter to artist, his journey as a refugee in the West Bank to Norway and then back again. In a series of tragicomic episodes vividly brought to life by award winning writer Hassan Abdlrazzak we journey through this personal and political tale of occupation and resistance, fear and heroism, a life of self-pursuit and loyalty. Transporting us to the heart of the hardships, struggles and contradictions of a young Palestinian man growing up under occupation and his pursuit for the true meaning of freedom.
The performance is in English
Written by: Hassan Abdulrazzak
Performed by: Ahmed Tobasi
Produced by: Oliver King /
Developing Artists Directed by: Zoe Lafferty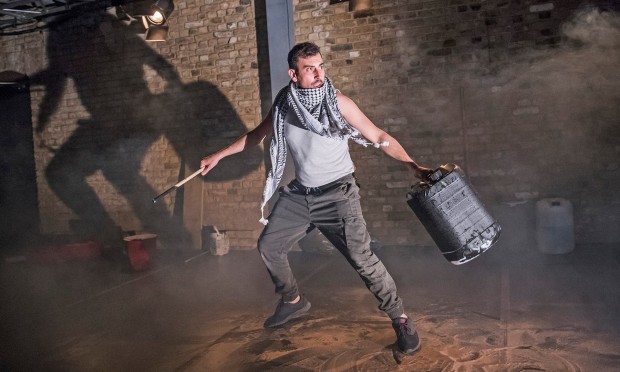 The Freedom Theatre er et teater i Jenin flyktningleir i Jenin på den okkuperte Vestbredden i Palestina. Teateret har turnert i både Europa og USA med forestillingene sine og høster stor internasjonal anerkjennelse. Sist ved at de ble tildelt Dramatikerforbundets solidaritetsstipend 2023.
The Freedom Theater jobber under svært vanskelige forhold og ble direkte berørt av det israelske angrepet på Jenin for en knapp måned siden. Vi er derfor ekstra takknemlige for at de tross alt likevel tar turen til Norge og Karlsøya for å fortelle historien sin.
Teateret setter opp profesjonelle teaterforestillinger, holder teaterworkshops i flyktningleiren, i Jenin by og i andre landsbyer i Palestina. De tilbyr opplæring i skuespill, pedagogikk og fotografi, setter opp utstillinger og gir ut bøker og kortfilmer.
Siden starten i 2006, har de gjort teater og visuell kunst tilgjengelig for alle unge i Jenin flyktningleir. Arbeidet deres har gjort Jenin flyktningleir kjent både i Palestina og internasjonalt for innovative og tankevekkende teater- og medieproduksjoner. De har skapt en generasjon kunstnere og ledere som en dag vil stå i spissen for den palestinske frigjøringsbevegelsen.
FUNDRAISENDE FESTAFTEN FOR THE FREEDOM THEATRE ETTER FORESTILLING FREDAG 18. AUGUST KL. 21 PÅ NORDIC BLACK THEATRE.
The Freedom Theatre fra Jenin i Okkupert Palestina har turnert fra nord til sør i Norge med monologforestillingen And Here I Am. Før de reiser hjem til Palestina, benytter vi anledningen til å invitere til en fundraisende festaften for The Freedom Theatre – for teaterkunst, motstandskamp og fellesskap.

I løpet av kvelden blir det bla. samtale om The Freedom Theatre sitt arbeid og situasjonen i Palestina, med kunstnerisk leder Ahmed Tobasi og teknisk ansvarlig Adnan Torokman, samt lesninger fra dokumentarteaterforestillingen Revolusjonens løfte av Ahmed Tobasi og Zoe Delemere Lafferty (oversatt til norsk av Vibeke Harper og Marius Kolbenstvedt).

Detaljert program kommer!

Revolusjonens løfte ble vist på HUMAN internasjonale dokumentarfilmfestival i Oslo tidligere i år. Les mere om prosjektet her: https://www.therevolutionspromise.com

Arrangementer i Trondheim 9.-13. august: