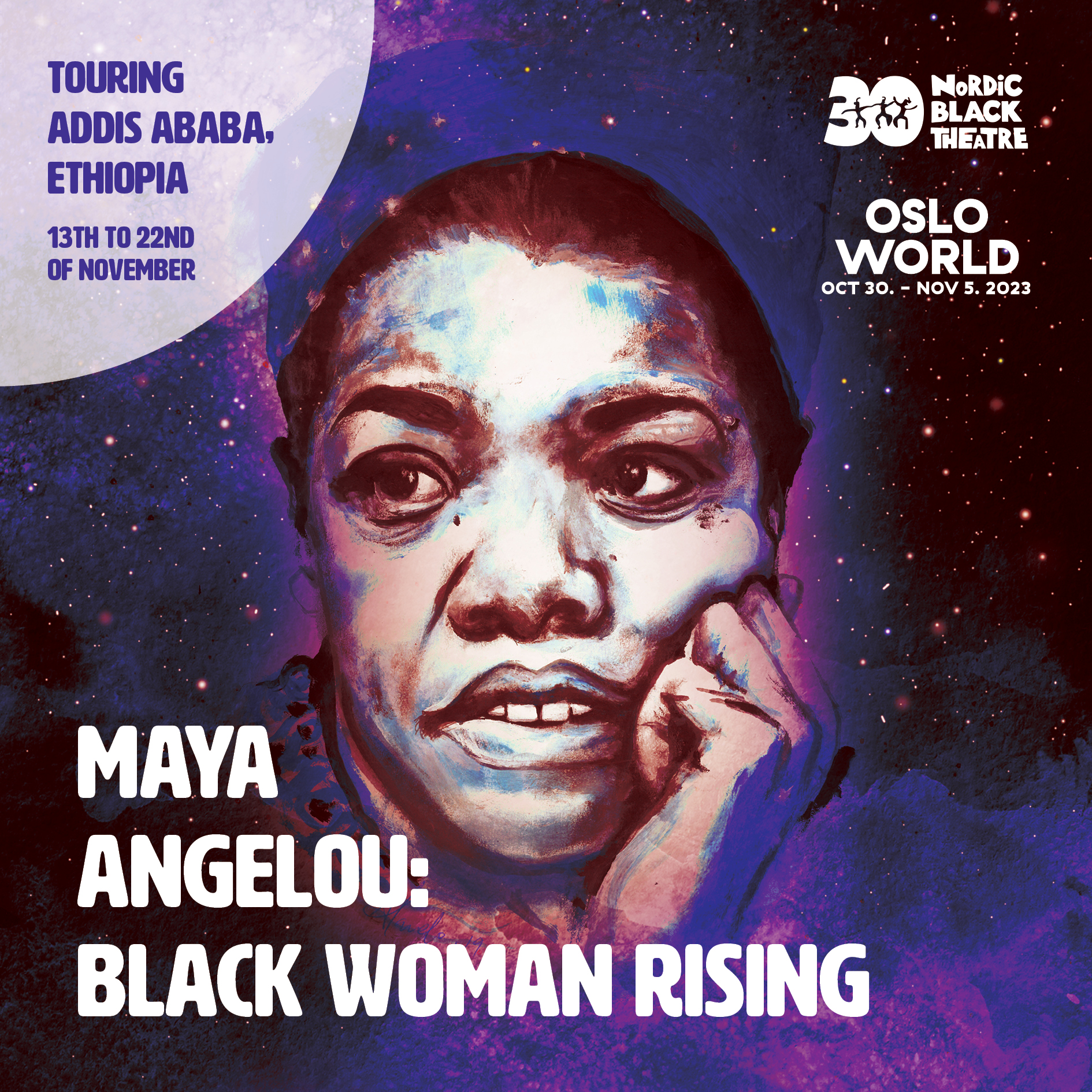 1.–11. november
DJ FRANK & RON inviterer til en rytmisk coctail av en etterfest 1., 3. og 10. november.
Les mer under.
After sold out houses and great success Maya Angelou: Black Woman Rising is back by popular demand 1st – 11th of November 2023!
Not playing 5th and 7th of November.
In collaboration with Oslo World.
Touring Addis Ababa, Ethiopia 13th to 22nd of November.
Nordic Black Theatre presenterer:
Maya Angelou: Black Woman Rising
Written by Kagiso Lesego Molope
Directed by Cliff A. Moustache
Choreographed by Bright Wamwanduka
About the great poet, singer, writer and activist Maya Angelou.
We tell the story of her life and work with music, dance and drama.

Ballade (2019) – Hyllest til renessansekvinnen
Poesien, pågangsmotet og protesten i Maya Angelous verk blåses liv i av sterke skuespillerprestasjoner i «Black Woman Rising» på Nordic Black Theatre.

Norsk Shakespeare Tidsskrift (2019) – Too Black, Too Strong
På Nordic Black Theatre fortsätter arbetet med att lyfta fram kvinnliga svarta personligheter ur den moderna historien. Denna gång fungerar det som underhållning, inte som hel berättelse om en livskamp

Dagsavisen (2021) – Sterk stemme fra skyggene
Den amerikanske forfatteren og aktivisten Maya Angelous ord har knapt vært mer aktuell enn i dag. Det minner en ny teaterforestilling oss på.

Utrop (2023)
Kjenner seg igjen i deler av livet til Angelou.

Norsk
Maya Angelou var blant annet forfatter, lærer, danser, journalist, manus-forfatter, sanger, skuespiller, poet og aktivist. Hennes liv og arbeid var til stor inspirasjon for mange på 60- og 70-tallet, for generasjoner etter henne og bøkene hennes er fortsatt skolepensum verden over. Hun var en nær venn av både James Baldwin og Malcolm X. Hun snakket 6 språk, vant utallige priser og var mentor for mange kunstnere bl.a. Oprah Winfrey. Maya Angelou levde et utrolig liv som nå blir dramatisert med dans, live musikk og drama på Nordic Black Theatre.
Forestillingen er på engelsk
Varighet ca 1t. 30 min.

On stage:
Sasha Amalie Schanke
Maria Karlsen
Hediyeh Azma
Aina Gnoutou
Mira Zaki Bjørnskau
Chris Masters
Maya Amina Moustache Thuv

Musicians:
Olve Flakne – Bass/Guitar/Piano/Sound design
Sankung Jobarteh – Kora/Guitar
Uriel Seri – Drum set/Percussion
Bafana Nhlapo – Percussion/Vocal
Director: Cliff A. Moustache
Choreographer: Bright Wamwanduka
Light designer: Shiva Sherveh
Scenography/Video: Sarah Rezayat
Costume designer: Emmanuel Prempeh
Makeup: Gisella Francisca
PR/Communication: Kamelia Javadi
Producer: Jarl Solberg

English
Maya Angelou was, amongst other things, a writer, teacher, dancer, journalist, screenwriter, singer, actor, poet and activist. Her life and work were a great inspiration to many in the 60s and 70s and for the generations that followed. Her books are still on school curriculums worldwide. She was a close friend of both James Baldwin and Malcolm X. She spoke 6 languages, won numerous awards and was a mentor to many artists including Oprah Winfrey. Maya Angelou lived an incredible life that is now being dramatized with dance, live music and drama at Nordic Black Theatre
The performance is in English
Duration approx 1h. 30 min.


DJ FRANK & RON invite you to a musical after-party 1st, 3rd and 10th of November, offering spicy cocktails and rhythmic snacks from around the world. A generous and groovy menu consisting of unknown ingredients from past times interspersed with new flavours of the future.
Facebook-event