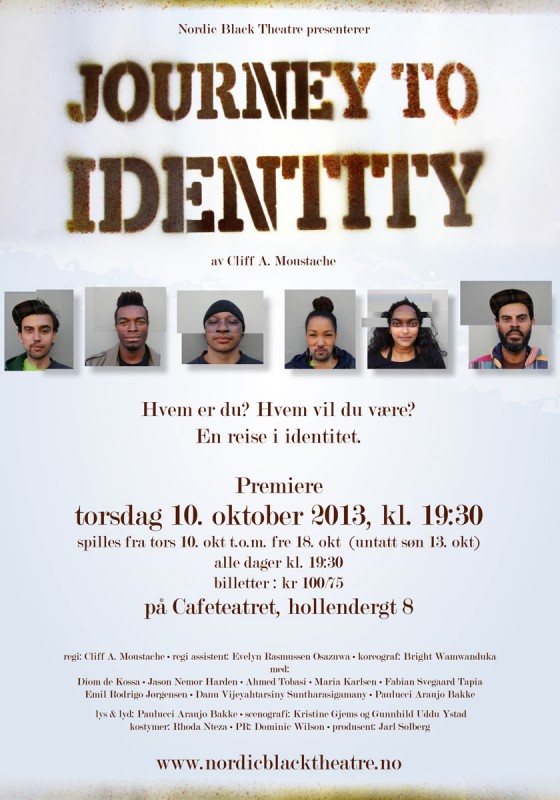 JOURNEY TO IDENTITY av Cliff A. Moustache
Hvem er du? Hvem vil du være?
Hva er identitet? Og kan den endres?
Teaterforestillinger blir ofte omtalt som «en reise», men med denne intimforestillingen blir publikum faktisk med på en inspirerende opplevelse inn i sitt eget syn på  begrepet identitet. Gjennom en collage av  musikk, bevegelse og tekst drar vi på ulike reiser for å utforske menneskets forhold til ordet identitet.
På scenen finner du etablerte musikere, dyktige dansere og nye scenetalenter som sammen utforsker tradisjonelle og urbane uttrykk for å skape en inspirerende og tankevekende forestilling. Journey to Identity er en intim opplevelse med plass til kun 40 tilskuere. Reisen er for alle som har lyst å utforske sitt eget selvbilde og identitet.
Forestilling har premiere torsdag 10. oktober kl. 19:30 spilles også: fre 11. lør 12. (ikke søndag 13.), man 14., tirs 15., ons 16., tors 17. og fre 18.
alle dager kl. 19:30
Billetter selges ved inngangen for kr 100.- (voksne) og kr 75 (studenter/honnør).
Billetter kan reserveres via epost:  post@nordicblacktheatre.no
foto: Monica Santos Herberg
Regi: Cliff A. Moustache
Koreograf: Bright Wamwanduka
Med: Diom de Kossa, Jason Nemor Harden, Ahmed Tobasi, Maria Karlsen, Fabian Svegaard Tapia, Emil Rodrigo Jørgensen, Danu Vijeyahtarsiny Suntharasigamany, Paulucci Araujo Bakke
Lys & lyd: Paulucci Araujo Bakke, Scenografi: Kristin Gjems  og Gunnhild Uddu Ystad, Kostymer: Rhoda Nteza Ystad, Regiassistent: Evelyn Rasmussen Osazuwa, PR: Dominic Wilson, Produsent: Jarl Solberg