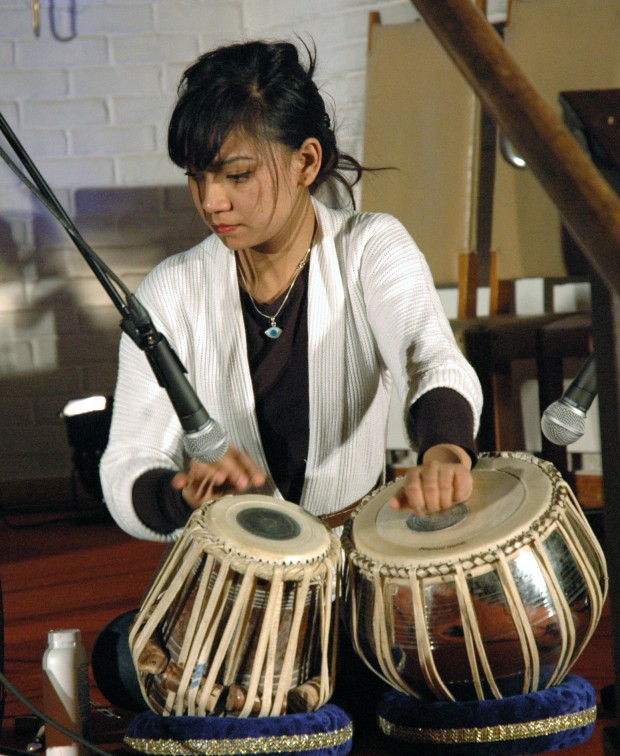 lørdag 17. oktober
kl. 12:00  –  gratis inngang
Sanskriti Shresta – Avatar
Avatar is a new sextet, put together by the tabla player Sanskriti Shrestha. After moving to Norway in 2010 for music studies, she has encountered new influences and forms of music, notably the more open scene for improvised and creative music. Combining these influences with her background in Indian Classical, as well as other ancient styles of music from Asia, the band has an interesting palette to work with.
The Hindu prophecy tells that when the World has come to a state of Chaos, God will come as an Avatar and re-establish Harmony on Earth.
«Music is the Healing Force of the Universe»…. Music might have the power to change things, given the right intentions, energy and receptivity. In this sense, Music itself could be seen as an Avatar, manifesting itself as sound through human individuals.
Sanskriti Shrestha (Nepal) – Tabla and Tabla Tarang, Vocals, Compositions
Andreas Wildhagen (NO) – Drums, Compositions
Erlend Albertsen (NO) – Basses
Magnus Wiik (NO) – Guitars
Adrian Waade (NO) – Violin
Magela Herrera (Cuba) – Flute