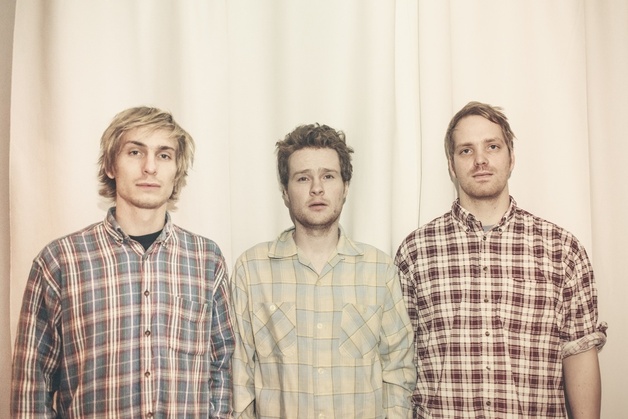 søndag 10. september kl 20:00, 230 kr/ 150 kr (medlem/student)/ under 18 år gratis
Dørene åpner kl. 19:00
Oscar Grönberg: tangenter, Bjørn Marius Hegge: bass, Hans Hulbækmo: trommer
Foto: Juliane Schütz
Bare et drøyt halvår etter at han var her med vakkert basspill sist, som del av Kjetil Mulelids trio, kommer Trondheimsbassisten Bjørn Marius Hegge tilbake med det som tidligere var hans egen trio. Hegge kom som et skudd etter at hans band Operasjon Hegge var i JazzINTRO-finalen i 2014. I dag er han en svært ettertraktet bassist, tilsynelatende med tusener av jern i ilden. Nå kommer han tilbake med ett av jernene, sammen med to andre mestere.
Trioen har nå skiftet navn til Loose Items, og framstår dermed i navnet også som det kollektivet det virkelig er. For med seg har han to gode Kampenjazzvenner: Oscar Grönberg er en av de mest markante lyrikere på tangentinstrumenter i Norge i dag. Trommeslager Hans Hulbækmo er …, vel, akkurat det: Hans Hulbækmo: En unik trommeslager med et særegent spill som har skapt farger og stemninger til mange band, over hele verden. Denne trioen er et kollektiv som sammen skaper det mange av oss kaller vakker musikk.
For tre år siden slapp trioen albumet Standards, og låtmaterialet er da selvsagt, jazzstandarder. Men du har aldri hørt dem spilt slik som dette. Jan Granlie i nettidsskriftet salt peanuts* skrev om denne plata at de tar standardene «med seg inn i sitt [eget] musikalske univers, og lager noe helt nytt ut av det … [De] utforsker originalene og lager svært personlige og fine versjoner …»
Autumn Leaves i farger på Kampenjazz!